When we think of Spain, we generally think about the miles up miles of golden sand beaches, the Mediterranean culture, paellas, and cheap drinks.
But skiing?
The Sierra Nevada ski resort measures 3479m at its highest point, and is a mere 3 hours away from the region of Murcia, roughly 40 minutes up the mountain into the mountain range outside of Granada city.
And if you don´t mind taking a slightly longer, more scenic route, the last hour and half of this journey treats you to some stunning landscapes, and a for the petrol heads out there, a beautiful, winding, mountainside road that takes you around the Embalse de Quentar lake.
This is a fantastic place to stop and take in the views from the Embalse de Quentar dam.
Photo Credit – Youtube @Paulafsz97[/caption]
The Ski season in Sierra Nevada runs from November, all the way through to April, so you could easily be skiing in the morning and sitting on a beach soaking up the sun with a glass of sangria in the afternoon.
If you don´t find yourself very well equipped for these winter sports, then not to worry. Sierra Nevada village on the bottom of the slopes is packed full of ski shops where you´ll be able to hire everything you´ll need, from ski boots to snowboards, skis, and everything in between, all for as little as 15€ for a full set per day.
It is necessary to book your ski passes before you´ll be able to hit the slopes which can be bought while you´re there. Although if you do go in peak season, then we´d recommend booking online to avoid the queues.

And if you´re not into these winter sports, and just fancy a little bit of break, then you´ll find a wide range of bars, restaurants, hotels, and endless hiking routes through the mountains with spectacular scenery over Granada city.
Accommodation-wise, you have a tonne of options available to you.
During peak season, if you´re intending to go snowboarding or skiing early in the day, then we would recommend booking something in the village, Monachil, as the traffic to get up the mountain from Granada city take a fair bit of time.
One of our favorite hotels in Monachil is El Lodge, a stunning location, right in the heart of the village.
Booking your accommodation in advance during peak season, especially during the New Year period, is highly recommended as the hotels do tend to get booked up pretty quickly.
If you fancy staying somewhere a little bit different, somewhere truly unique, another option is the "Luxury Dome Retreat". This is a geodesic dome, built 1000m up a mountain in the village of Dudár, run by the family of our photographer here at Murcia Services.
The dome offers an unforgettable experience, ideal for couples, as well as being suitable for groups of up to 6 people, fully equipped with Wifi, a bathroom with a shower, a kitchen, barbeque area, swimming pool, and just a 10-minute drive away from Granada city, and 5 minutes away from the bottom of the Sierra Nevada mountain range.
If you´d like to book the Luxury Dome Retreat, feel free to contact us for a direct booking with the owners.
Getting back on to the Sierra Nevada Ski Resort, here you´ll find something for all ages, from tobogganing to nightlife, wine bars to spa days.

Several of us here at Murcia Services make the trip to Sierra Nevada at least once a year, not just for the winter sports, but for the general atmosphere, scenery.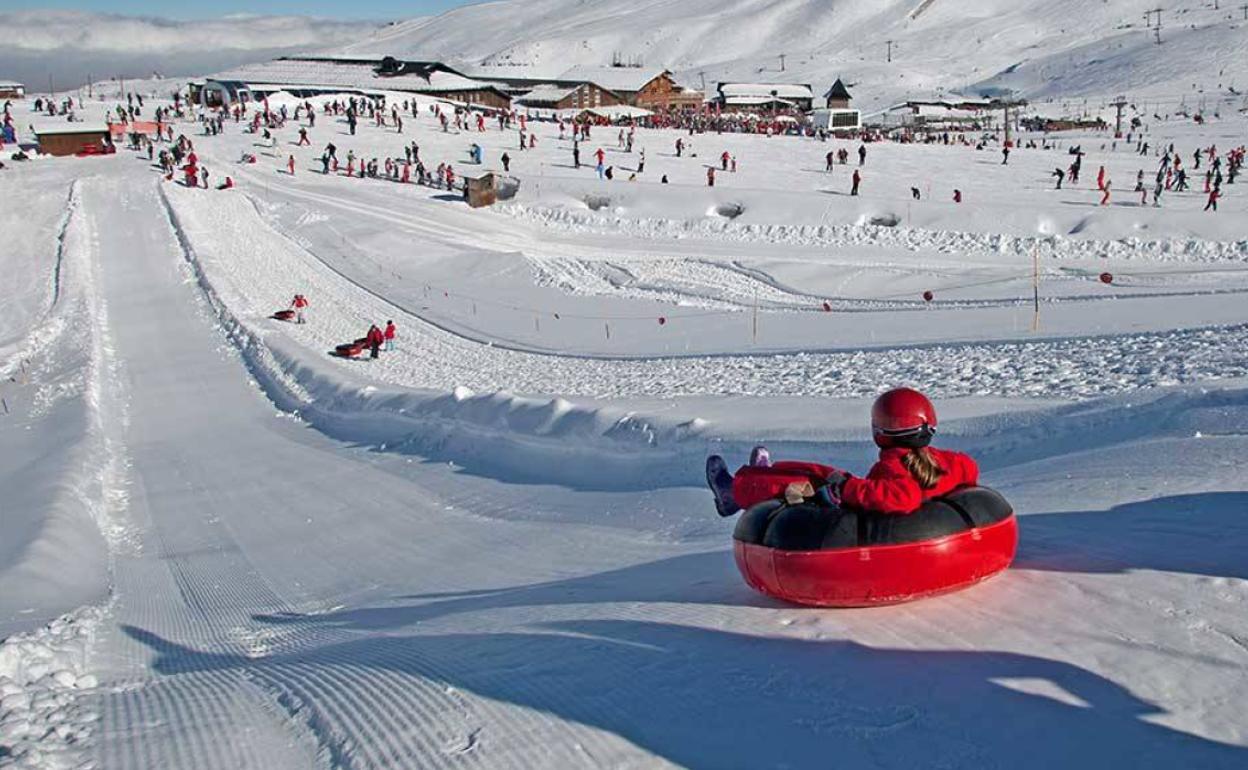 At Murcia Services, we have a 9 seater minibus available to cater for smaller groups looking to enjoy minibreaks in the country such as a snowy weekend away in the mountains. If you´d like to enquirie about a group booking including accommodation, return transport, and ski passes, then get in touch today for a quote tailored for your group.